Fallen in Love (Fallen, #3.5)
by
Lauren Kate
(Goodreads Author)
Cait
's review
Read from January 27 to February 05, 2012
Post-review:
I feel like, after reading almost all of this series, now, including the in-between book that I was in no way obligated to read, I am allowed to write a letter. I feel as if we have grown......so much closer over this series.
So much closer.....
:
My dearest Lauren Kate; my honey-bun, my up-and-downer; my peach,
I regret to inform you that your writing has gone all-out bipolar on us all, and this book is prime evidence of that fact. Passion was the worst book of this series to date before this book was published, in my honest opinion, and I believe that Fallen In Love was
your
honest attempt at rectifying the train wreck that your last book was. You were trying to follow that old saying:
I think that the lawn mower really makes the scene. Take some notes, Katey-waty.
Sad to say that you tried, and you failed. Your lawn mower never even got off the ground; it kind of wobbled off into the air just a little bit, but when you had your excerpt of Rapture in there it just exploded into a fiery blaze. Seriously. It was so huge it burned my hands. Be expecting the medical bill from the hospital either also inclosed inside this envelope or as a later package a couple of days after.
Let's go over your first story in this little four-story
headache
extravaganza. To be blunt with you, dearest, it really was not good. The whole romance with Shelby and Miles was so awkward, not well-written and just......plain old shit. Don't get me wrong, my little cup-Kate, I'm extremely glad that there isn't a love triangle anymore (although you either purposefully or accidentally decided to hint at Luce with Cam again in the Rapture excerpt
shoot me now
) between them, but it was just bad. Here's some of those awkward first-story gems:
Then I realized it was just me and Miles.
Alone.
And another gem at basically the very beginning:
"I thought we were home!" Shelby cried, her voice landing somewhere between a bark and a whine.
Why, Katie boo-bear? Why?
Did you
just
realize that, Shelby? After, even in your own words, an "eternity" of jumping through time with mainly just Miles that little light-bulb of thought finally entered your character's dim little brain? Just because you feel the need to write another story and milk out this series does
not
mean that you can randomly write a relationship between two characters that was never even hinted at before! If you're going to write a love triangle and dig yourself into that terrible, dark, hole then you'd damn well come up with a fantastic way to get out of it! The whole passage was just Shelby having a fetish for Miles' damned hat and a really random make-out sesh at the end. And what the hell? A
bark
and a
whine?
What is Shelby, a
bitch
dog? I tried making that noise myself and it either sounded like I had a speech impediment or, well, a dog. I understand what you were
trying
to say, but you didn't say it at all correctly, sugar. I feel as if, Katie dear, if you had just left out that story I could have given this book possibly even three stars even
with
the Rapture-disaster at the end!
I'm sorry, Katydid. I didn't mean to get mad, because you really did redeem yourself in the middle two series.
Now, mon petit chou, I want you to guess why I liked the next two stories. Really, just guess. No? Okay, then I'll tell you:
BECAUSE IT WASN'T ABOUT LUCE OR DANIEL!
I'm sorry, sweetie, I couldn't keep it in.
I was actually about the side characters that I could stand, and I honestly think that their stories, if they were elongated, would be better than this whole Fallen series. I'm not even kidding right now. Now, Kate, I am still not in any way saying that the two other stories you wrote (omitting the one about Luce as the last story which was still decent in comparison to some other Luce's.....other visits to her past) were fantastic, but they were
still
tolerable
and
readable,
and
actually had a good kind of message
and
Arianne and Roland actually
learned
from what happened to both of them because of love
and
had decent character development with an again somewhat decent moral/lesson at the end! Those two stories (which I may or may not elaborate on some more when it isn't so late
and I know where the damned book is
) were just another concrete example as to how what you think is someone being pessimistic and foolish are the people that are actually
decent;
not the ones whom you think are the ones in "real love"
I just wish you had written the rest as you did with Roland and Arrianne, Kate.
With dearest regards your amazing, intelligent, beautiful, incredible, and ineffably sagacious,

Caitlin.
Oh, and as an added aside: I would write about Rapture in this review, but I have so much rage for even those first damned fifteen pages or so that I'm going to write about
all
of my feelings in a Rapture pre-review in the next couple of days, so be ready for that one, folks.
And I just added this gif because I can. Good day to you all.
Pre-review:
Bhahahahahahahaha! This quote.....oh this quote..... (this was the synopsis before my dear Goodreads friend-and librarian- changed it to what it is now)
This book is about the only Valentine's day that Luce and Daniel ever had together. How romantic and heartbreaking is that?
*picks up the supposed "book" *
BHAHAHAAHAHAHAAHAH!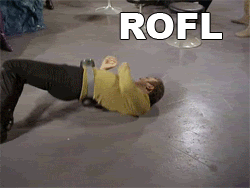 How romantic, and *splutters*
heartbreaking?
This has got to be one of the best practical jokes I've ever heard of in my life!! Now, come on, someone 'fess up. It was funny while it lasted, but come on now. Somebody own up. Was it you, Cillian?
*looks around and sees nobody*
Okay, if not Cillian, than maybe Mocha?
*still sees nobody and grows panicked*
Anyone?! Come on; this is just way to corny to be an actual
book!
*cricket cricket*
Wait.....so this isn't a joke?
Oh my God I am officially horrified. This is actually
a book?!?!?
I am........astounded. Is Lauren Kate seriously this
greedy
desperate for money that she writes about Luce and Daniel.....on Valentine's Day, no less? That is seriously the epitome of cliche and horribleness! I can't....I can't......understand.....brain.....fried....
Sign into Goodreads to see if any of your friends have read Fallen in Love.
Sign In »
01/27/2012
page 1
0.0%
"I thought that this book could be my official re-return to Goodreads book. I have been so dreading looking forward to it! Honestly, though, I'm fully prepared for it to be an escalator wreck:

[image error]

It's like a train wreck, but on an escalator? Get it? Geeettttt it? No? I think my pneumonia took some of my funny....." 5 comments
01/29/2012
page 6
3.0%
" "I thought we were home!" Shelby cried, her voice landing somewhere between a bark and a whine.

[image error]

I tried doing those words "between a bark and a whine", and it sounded like I had a severe speech impairment. Maybe that would work if it was just one word, but trying to say a whole phrase like that? That just.....*gestures to the above gif*" 6 comments
01/29/2012
page 19
9.0%
" It was just me and Spencer. Alone.

[image error]

You don't say, Shelby. After nineteen pages of being with just him, and who knows how many other pages in Passion while you were looking for Luce and you just realized that. I think we have a fucking genius on out hands, here." 3 comments
01/29/2012
page 23
11.0%
"Out of the seven sentences used to describe the town in these last two pages, five of them used which. Five.

[image error]

I wouldn't be complaining if there weren't other painful writing examples everywhere. Blah." 1 comment
01/30/2012
page 60
30.0%
"Okay, so I really hated the story with Shelby and Miles, but this one about Roland is actually........decent.

[image error]

I know I'm pretty surprised, too, but I'm sure she'll ruin it once I get to the once about Daniel and/or Luce. We'll just have to wait and see....." 3 comments
02/01/2012
page 100
50.0%
"Well Kate is certainly going in a.......different path than I thought she would. Not that it's horrible yet, but........."
02/04/2012
page 180
90.0%
"Awesome.....I've hit the oh-so-exciting sneak-peek of Rapture!

[image error]

Like seriously. Nonononononnononono. This book went right back from decent to shit again. Now I have to read about how obsessed Luce is with Daniel again. "
02/04/2012
page 185
92.0%
" What would it take until Daniel and I could be together forever and live out our perfect love?

[image error]

Okay, Luce is pissing me off. She doesn't think ahead! Even if they do beat Satan there's a problem with Daniel being immortal! You're going to get old and wrinkly and he'll just keep on young forever, then what? God she is stupid." 1 comment
02/05/2012
page 201
100.0%
"Wow that ending made me so excited for Rapture.

[image error]

" 3 comments
08/23/2016
marked as:
read
(showing 1-50 of 135)
(135 new)