Fifty Shades of Grey (Fifty Shades, #1)
by
E.L. James
(Goodreads Author)
Baba ♥♥♥ Tyler, Marcus, Archer, Dean, Adrian, Dan & Hunter
's review
bookshelves:
books-everyone-loved-but-baba
,
erotica-or-erotic-romance
,
dnf
,
worst-books-ever
,
bored-out-of-my-mind
,
rolls-eyes
,
risk-of-aneurysm
,
what-in-the-ever-lovin-fuck
,
coup-de-grâce
,
one-star-reads
,
yuck
,
dumb-twats-bitches-or-annoying-h
,
hero-annoyed-the-shit-outta-me
,
trees-died-for-this-crap
Read in September, 2011
0 stars. DNF @55%. Review edited February 12, 2015
"Sex is more than an act of pleasure, it's the ability to be able to feel so close to a person, so connected, so comfortable that it's almost breathtaking to the point you feel you can't take it. And at this moment you're a part of them.

- Author unknown -
I've had a rather long list of issues when I decided to abandon ship. FSoShit is garbage and if I had read a paperback I would have burned the
fucking
offending thing. It's a total mystery to me why this book ever saw the light of day because, let's face it, the writing is incredibly juvenile. The story and characters are extremely poorly written and I couldn't for the life of me connect with the dumb, clumsy, naïve and immature heroine.
Also, the slimy whacko didn't deserve to be called hero. Christian is a highly manipulative, abusive and stalker-ish asshole. His whispers didn't endear him to me either. He came off as a total creep. I honestly don't understand what Ana saw in him, yet on the other hand, I didn't get it why Christian would stalk that bland and vapid wallflower. In any event, these two deserved each other and Ana obviously enjoyed Grey's blunt and crude approach.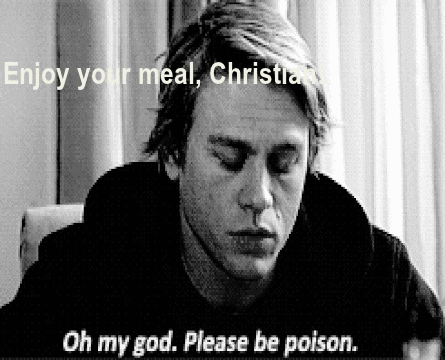 The whole contract business was pretty much mind-boggling. I don't believe that a healthy and consensual Dom/sub relationship could be based upon such crappy and ridiculous rules.
Christian, the rich Superman (sarcasm), deflowered our wallflower in a way that's not even worthy of losing any words over that pathetic fuck. So, you did guess right. I neither found the sex to be hot nor erotic. At.All. Thus, I'd better buy him a ticket to the next Mars expedition stat. That would ensure that Mr. Grey would not return to our cozy place called Mother Earth.
FSoG lacked depth and emotion big time. Except of disgust and anger I felt nothing towards these pathetic main protagonists and their fucked up trip bored me to tears.
The winking smileys irritated the hell outta me and all that inner goddess shit made me almost blow a fuse. Jesus.Fucking.Christ. Would you give me a break already? I've read a variety of erotica books and I do enjoy great smexin' that comes with some kind of depth and great characterization. However, I'm not sorry to say that FSoG is ranking among the worst erotica books I've ever read.
What's seriously bugging me as well is the fact that the general public thinks that FSoShit provides almost every woman's erotic fantasy. I don't criticize readers who loved this book but I'm criticizing the media coverage. I don't appreciate it when these people claim to know that's what a general majority of women love to read and want in real life (or in the bedroom for that matter). Seriously? Never. Ever. FSoG is bad erotica. It's bad BDSM too.

When people say FSoG is "empowering women in their sexuality," then I think something is seriously wrong. Never ever could this story empower me in my sexuality. What in God's name is on their minds? I can do it all by myself with my very healthy hand, and I can gladly say that my boyfriend is empowering me just fine and is taking care of my needs. Thank you very much. BTW, my boyfriend is not an abusive and manipulative stalker. Oh, yes, now it dawns on me…my boyfriend is real.
Bottom line, the barely there plot and the characters were overly shallow, underdeveloped, immature and boring. The amateurish writing killed any desire to read anything else by this author in the future. And last but not least, my inner goddess was so fucking relieved when she had to quit eventually. It was a very tedious and crappy experience and I wish I had never bought this book, let alone attempted to go through this rubbish. I was in dire need of bleaching my brain.
Christopher Hitchens said…
Everybody does have a book in them, but in most cases that's where it should stay.
As a side note
Sign into Goodreads to see if any of your friends have read Fifty Shades of Grey.
Sign In »
09/19
15.0%
"The heroine, Ana, is often talking to herself. She's shy and clumsy and blushes constantly. Awwww, she'll step into the lion's den! I'm quite tense...I want to see how she'll handle Grey or should I better say it's the other way round. Until now, it's an entertaining read - rather hilarious. I like it!"
09/19
22.0%
"I am so not 'amused' right now. Because I've had my WTF?-moment when I read all those rules and a bit later when Ana lost her virginity. This was so not romantic. Hello?? *urgh* I do hope that this will improve..."
09/20
35.0%
"Gosh, I have to tough this out. Ana begins to seriously tick me off. She speaks and acts so immature. She's not sophisticated. She got an e-mail with a winking smiley. Seriously! What almost 22 year old would get excited about a winking smiley?? I can't hear this inner goddess shit anymore. Jeez, I plead with MY inner goddess: "Give me the strength to finish this book and let me survive this clusterfuck!"" 3 comments
09/20
35.0%
"I had not enough room before. So I continue now: When I read this contract/paper stuff...my oh my oh my...seriously, this is sick. I already enjoyed a lot of BDSM books. But this one here...I feel rather spaced out. I would treat my dog differently if I had one. And Grey seems really fucked up. :((("
09/21
48.0%
"Bad. Worse. Worst! I started to write my review today. There's so much stuff I don't appreciate here. Incredible! I don't have enough space here to voice it all. This is a huge disappointment. :(((" 6 comments
02/03
marked as:
read
(showing 101-150 of 287)
(287 new)