Boneshaker (The Clockwork Century, #1)
by
Cherie Priest
(Goodreads Author)
Without a
doubt
this is the very best steampunk-zombie-pirate-dirigible-madscientist-subterranean-postapocalyptic adventure set in 19th-Century Seattle that I have
ever read
.
Basically, this book exists to answer the question: What happens when you take a bunch of disparate awesome things and cram them all together into a single book? The answer, it turns out, is this: A book with exponential levels of awesomeness! It is awesome to the nth degree! In a word (which I got from my friend, who won't admit she got it from Perez Hilton), it is AMAZEBALLS.
The premise is this: In an alternate-universe version of 1860's Seattle (the city is much more developed than it was in our universe at that time), a mad scientist named Leviticus Blue is commissioned by gold-hungry Russians to invent a massive drilling device (a "boneshaker", if you will) that can be used to mine under glaciers in the Klondike. But when Blue tests the machine under his home city, it leaves a wake of massive destruction and unleashes a mysterious heavy gas that leaks out from underground. This Blight gas is unbreathable and unstoppable, and when humans contact it, it either kills them or turns them into zombies. The Seattleites evacuate and build a 200-foot-high wall around the destroyed city to keep in the gas and the risen dead.
Fifteen years later, Briar Wilkes, widow of Leviticus Blue, and her teenage son Zeke are living in the Outskirts beyond the wall. When Zeke impulsively sneaks into the city, hoping to find evidence to clear his father's name, Briar goes after him. And the two quickly learn that their greatest peril comes not from zombies or the Blight, but from the dangerous people who still call downtown Seattle home. And one of them, a maniacal masked overlord, may even be Leviticus Blue himself.
What follows is just about as awesome, exciting, and scary as you might expect. Priest's writing isn't anything special, and this book won't wow you with human insight or deep thoughts. The story itself isn't all that memorable. But what it is, is a
whole lot of fun
.
A big part of the appeal for me was the setting. I love Seattle, and there's a dearth of fiction - especially science fiction - that's set here. And the story, which largely takes place in the Blight-free tunnels beneath the city, was clearly inspired by the
Seattle Underground Tour
, a real tour through real tunnels beneath Pioneer Square, which have been used for all manner of illicit things, like prostitution or prohibition-era saloons. It's an incredibly awesome bit of history which sent my imagination into overdrive when I first saw it as a teenager, and I highly recommend checking it out if you're ever in town. Picturing it overrun with zombies and steampunk robotics just makes it better.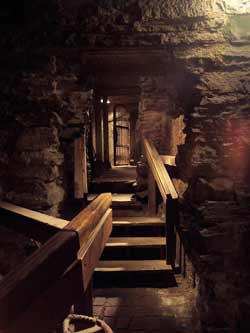 Knowing a little about Seattle's history adds to the
Boneshaker
experience. For instance,
Princess Angeline
, the real-life daughter of Chief Seattle, kicks some ass and takes some names within these pages. And the character of Maynard Wilkes seems to be inspired by real-life scoundrel (and my very favorite pioneer)
Doc Maynard
. But, as I mentioned earlier, the book also bends history in some interesting ways, so knowing too much about the real Seattle may just disorient you at first, as it did me.
But all in all, this book is heaps of fun, and far more full of pure entertainment than anything else I've read this year.
Sign into Goodreads to see if any of your friends have read Boneshaker.
sign in »
| | | | | |
| --- | --- | --- | --- | --- |
| 09/15/2010 | page 1 | | 0.0% | "I was on the library waitlist for this one for approximately 17,000 years (give or take)." 1 comment |
| 09/20/2010 | page 180 | | 43.0% | "Loved the Princess Angeline cameo. I hope she comes back." |
| 09/21/2010 | page 244 | | 59.0% | "I'm liking this more and more. There are some nifty little easter eggs for Seattle history buffs." |
(showing 1-8 of 8)
(8 new)
date
newest »
back to top