Paul R. Hewlett's Blog
July 7, 2012
Hi there! Thanks for stopping by! I want to take a moment and thank all of the readers and fans of Lionel's Grand Adventure. Thank you! For those of you that don't know or haven't read Lionel, a free chapter is available to sample and read. Just go to
http://bit.ly/Ic1uxK
and there it is! For those of you that are too busy or just don't want to fool around on a computer for a free sample, I have something for you too. I will be offering Lionel's Grand Adventure: Lionel and the Golden Rule, the 1st book in the Lionel's Grand Adventure series, FREE. Yes, that's right, FREE, beginning Thursday July 12th through Friday July 13th. All you have to do is go to
http://bit.ly/AC8rMq
and hit the "Buy now with 1-click" button and it will be downloaded to your Kindle or home computer free of charge.
If you're heading off on a family vacation, or any long car trip for that matter, or if you want to just keep the kids busy during summer vacation, this is a perfect opportunity to download Lionel's Grand Adventure and join Lionel on his Grand Adventure. I hope you stop by and get a download. See you there. Oh yeah, and in case you're still not sure if you want to, I'm providing a free sample chapter right here to take all the effort out of it. Enjoy and remember, Be Careful What You Wish For, You Never Know What You'll Get!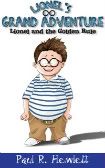 The characters and events in this book are fictitious. Any similarity to real persons, living or dead, is coincidental and not intended by the author.
Copyright 2011
All rights reserved
This electronic book (ebook) or any portion thereof may be copied, sold, or reproduced or used in any manner whatsoever without the express written permission of the author, except for the use of brief quotations in a book review
Chapter 1
"Liiiii-onel, are you coming?" yelled Bertha Snodgrass, the plump, middle-aged mother of two.
"Geez, just a sec, Mom," Lionel struggled, buttoning his jeans on his way out of the room.
"Well, hurry up! You don't want to be late on your first day at your new school."
Grabbing the furry object from his nightstand, Lionel ran, "I'm coming!"
***
Our story begins in the summer of 1967. Lionel, a twelve-year-old boy with sandy brown hair and pink cheeks, and his family have recently moved to the tiny village of Larrystown, Missouri from Penobscott, Massachusetts. A little chubby and slow, he wears his older brother's hand-me-down clothes, which never fit quite right, and he wears glasses that always slide down his nose.
He isn't athletic or funny. He is nice to everyone and tries his hardest at all times, however as hard as he tries (and he does try hard), things never seem to go smoothly for him. This made him a perfect match for the Three-Toed-Potbellied Walbaun foot, which happened to have a less than perfect track record itself.
It all started when Lionel examined his new room, while settling into their two-story house. He was excited to have his own room rather than sharing it with his big brother Will, with whom he has nothing in common.
The only similarity between Will, known to most as Feeney, and Lionel is their mother. Feeney is bigger and stronger than Lionel will probably ever be. Lionel is happy, but Feeney is bitter. Lionel is a good kid, but Feeney is a bad apple.
Of course, putting up with the constant yelling and criticisms from his mom might be the reason that Feeney was a bad apple. She never encouraged him or spent time with him. Whatever the reason, Feeney constantly pushed Lionel around and picked on him.
Left to his own curiosity, Lionel examined every nook and cranny of his new room, bending over to inspect the floorboards, and pushing his glasses back up the whole time. When he reached the closet, his adventure really began. Being a little short, even for a twelve-year-old, meant he had to be a little creative to examine the top shelf of the closet.
Always resourceful, Lionel managed to balance on the edge of the old heat register sticking out from the wall. He pulled himself up on the clothes rod and took a peek. At first, the shelf appeared to be empty, except for the inch of dust on it. A closer examination revealed something bulky lying in the far corner. Not to be discouraged, he inched to his left, holding onto the door frame with one hand and reaching as far as his other arm would allow. The treasure was still a few inches away, but Lionel did not give up. He took a deep breath and jumped off the register toward the unknown object.
WHAM!!!
Lionel smacked his head on the door frame, missed his target, and landed with a thud on the floor. Unfortunately this ruckus not only left him with a goose egg on his head, but it also caught the attention of his mom.
"Lionel, what in the heck are you doing up there? You better not be wrecking anything or making a mess! If you are, so help me, I'm gonna spank you with the yardstick! Now, go have a snack or play with your toys. Just don't make me come up there!"
Used to this response from his Mom, Lionel considered himself lucky that she didn't actually do it this time. Maybe having two stories in the house was good, since Mom didn't like to move around a lot. Oddly, the yardstick gave Lionel an idea to rescue the unidentified object on his closet shelf. Now, the trick was getting the yardstick without alerting his Mom that he was up to something.
Lionel snuck down the stairs to the pantry and peered out into the living room. He saw his mom on the sofa, snacking on some chocolates. He crept toward the door, gripped the handle and turned it slowly. The door opened without the squeak of their old door, making it possible to get the yardstick undetected.
There it is! Lionel smiled.
Quickly, he grabbed the yardstick and closed the pantry door. He then retraced his steps back up the stairs. Nothing he ever attempts went smoothly, and that's what made this quite an accomplishment and an obvious omen of good things to come.
With the yardstick in his hand, Lionel resumed his position on the heat register. Cautiously, he stretched out for the unidentified object. He moved it closer to the edge.
Uh-oh. Don't fall, Mom will hear! Wow, that was close. Tiny beads of sweat began to form on his forehead as his fingers started to slip from the doorjamb.
Bingo! The unidentified object fell to the ground without a sound. It appeared to be nothing more than an old rabbit's foot, the kind used as good luck charms. Not a bad discovery, since Lionel could always use some good luck, but it wasn't really what his overimaginative mind had hoped for.
Lionel took a closer look and realized that it was bigger than any rabbit's foot that he had ever seen, unless they grew them differently in Larrystown. It was about four inches long and had three extremely long toes. They were able to bend in either direction, which was very unlike a rabbit. Suddenly, a loud banging came from the stairs. It had to be Feeney. Lionel quickly stuffed the foot into his pocket as the footsteps reached the top of the stairs.
"Whad'ya doing, you little twerp?" Feeney flung the door open.
"Nothing, Feeney, I'm just hanging out in my new room," said Lionel as the fear grew in his stomach.
"Well you better…hey! What are you doing with Ma's yardstick? I'm gonna tell her unless you…"
Lionel bit his tongue and turned red, wishing Feeney would leave him alone and vanish.
A very loud ripping noise filled the room, stopping Feeney in mid-sentence. He looked between his legs, and saw a gaping hole where his pants had split. Horrified and scared, Feeney looked around and took off without a sound, forgetting about Lionel and the yardstick. Unsure of what had happened, Lionel decided he had better put Mom's yardstick back where it came from before she noticed it was gone.
***
One day, while sitting at Jardean's Mercantile and Confectionery, drinking a Green River soda, and paging through a comic book Lionel began to have other ideas about his lucky rabbit's foot. The confectionery was a hangout for the local kids to buy candy and fountain soda. It was also home to Herb Jardean. Herb, the shop's owner, was deemed a little eccentric and believed he was the village's local historian. Herb stood muttering to himself behind the counter paging through some old papers. Lionel's ears perked up, when he heard Herb mutter something that sounded like his lucky rabbit's foot. He listened a while longer unable to make out anything intelligible. A little nervous, he gathered up the courage and decided to ask him what he was talking about. Lucky for Lionel, Herb loved telling his tales and believed every word of them, so it wasn't too intimidating to ask.
"E-Excuse me, Mister Jardean?" Lionel askd.
"Yes, Lionel?" Mr. Jardean replied.
"I couldn't help overhearing you talk about what sounded like some type of lucky rabbit's foot. I was wondering if you would tell me the story about that?" asked Lionel.
"Rabbit's foot, wasn't no rabbit's foot I was talking about, it was a Three-Toed- Potbellied Walbaun foot I was talking about," said Mr. Jardean proudly.
"A what?" Lionel asked.
"Sit down and I'll explain the legend of the Three-Toed–Potbellied Walbaun to you."
4 comments
July 07, 2012 19:46
• 93 views •
Tags: bullying, childrensbook, ebook, free, kids, kidstuff, kindle, lionel, parenting, summerreading
July 6, 2012
June 29, 2012
May 12, 2012
May 5, 2012
April 1, 2012
March 13, 2012
March 10, 2012
March 4, 2012
March 3, 2012